Welcome to LCY London, where Adventure Meets Heritage. From our origins as a polo-centric brand to our evolving future as a global fashion entity, our story is a blend of East and West, melding the pioneering spirit of British fashion with Sri Lanka's rich craftsmanship heritage.
Past: The Epitome of British Fashion
Our journey began in a small Sri Lankan shop, focused on perfecting the polo shirt as a staple of British fashion. We drew inspiration from the iconic sport of polo, which epitomizes youthfulness, versatility, and an adventurous spirit. Over the years, our dedication to quality led us to source our fabrics from globally renowned suppliers who also cater to fashion giants like Dior and Ralph Lauren. This commitment to premium materials ensures that our polo shirts stand as wearable works of art, intricately crafted to provide unparalleled comfort and style.
Future: Capitalising on Eastern Craftsmanship
As we evolve, our vision extends far beyond polo shirts. We aim to become a true global brand, incorporating the meticulous craftsmanship of Sri Lanka into a broader range of garments. Our future is one that celebrates the blend of East and West, leveraging Sri Lanka's rich textile heritage to bring a new depth to modern Western fashion. With every stitch and seam, we pay homage to our roots while embracing the adventure that lies ahead, embodying our tagline: Adventure Meets Heritage.
Our Genesis
The Rise of a Global Polo Shirt Powerhouse
The seed for LCY London was sown in a modest boutique tucked away in one of Sri Lanka's bustling streets. With a small but extraordinarily passionate team, we set out to create a brand that resonated not just with fashion but also with a lifestyle—one that echoed authenticity, youthful exuberance, and multifaceted versatility.
We were inspired by more than just the aesthetics of clothing; it was the sport of polo that captivated us—a sport that beautifully blended tradition, skill, and an untamed spirit. This became the cornerstone of our initial design philosophy, compelling us to produce polo shirts that were more than just articles of clothing. They were embodiments of a lifestyle that celebrated vigor, discipline, and a commitment to excellence.
In our early days, we found ourselves confronted with multiple challenges, from perfecting our designs to meticulously choosing fabrics that resonated with our vision. But these challenges only fueled our ambition. They became the stepping stones for what LCY London is today: a brand that epitomizes the fusion of Sri Lankan craftsmanship and British sartorial ingenuity.
Through decades of hard work, the LCY London name gradually gained recognition, initially locally and then globally. Our grassroots beginning taught us the invaluable lessons of perseverance and grit, virtues we uphold as we broaden our horizons to international markets.
Today, we've expanded beyond polos, but the core ethos remains unchanged: to offer garments that are the epitome of authenticity and youthful spirit. As we set forth on this evolving journey, we carry forward the lessons, inspirations, and values from our genesis, honoring our roots while looking to the future.
Quality first
Where Craftsmanship Meets World-Class Materials
The Fabric: A Tapestry of Global Excellence
At LCY London, quality isn't just an afterthought—it's the cornerstone of our brand identity. It starts with the raw materials. We source our fabrics from the same renowned suppliers that cater to prestigious fashion houses like Dior and Ralph Lauren. This ensures that every LCY London garment is crafted from materials that meet the highest standards of quality and luxury.
Three Decades of Expertise
With over 30 years in the fashion industry, we've amassed a wealth of knowledge and expertise that we pour into each unique design. We're not just following trends; we're setting them. Our longstanding experience allows us to understand the nuanced shifts in lifestyle and fashion, which is why we continuously update our polo designs to resonate with the modern spirit.
Innovation in Every Stitch
Our brand has been synonymous with innovation, revolution, and bold style. We take pride in adopting international polo standards and reinterpreting them to align with your unique style and personality. Our creative team is always exploring new frontiers, experimenting with various materials, yarns, and thread varieties to create polo shirts that are not just garments but expressions of individuality.
Beyond Just Comfort
Crafted to perfection, our polos go beyond the conventional. They're made from the finest cotton varieties, promising breathability, unparalleled comfort, and moisture-wicking capabilities. The silhouette of each polo is meticulously designed to suit diverse body types while offering an exceptionally comfortable fit.
Tailored for the Tropics
Our origin in Sri Lanka has blessed us with an intimate understanding of tropical settings, influencing our designs to suit these climes perfectly. Our brand has become a go-to name in men's casual fashion in Sri Lanka and has the capacity to supply high-end retailers across the country with garments that speak of quality and class.
Our Own Manufacturing: A Testament to Stringent Standards
Unlike brands that outsource their production, every LCY London garment comes to life in our own manufacturing facilities. These plants adhere to rigorous quality standards, ensuring that each piece meets international demands. Our hands-on approach to manufacturing means that every thread, every stitch, and every detail is managed and executed to perfection.
Take the Factory Tour
CEO & CREATIVE DIRECTOR
Panduka
Behind the brand
Meet Our Creative Director
Leading LCY London's design vision is our Creative Director, Panduka. With a background as vibrant and varied as our collections,Panduka's multi-disciplinary skill set infuses LCY London with an unparalleled creative edge. A fusion of fashion expertise, photography finesse, and a multi-cultural upbringing allows him to personify and perpetuate LCY's brand vision: "Adventure Meets Heritage"
A Life Journey Across Two Worlds
Born in Sri Lanka, Panduka moved to the UK during his early childhood. This blend of Eastern roots and Western upbringing shaped his unique design sensibility.
A Vision for Sustainable Luxury
Beyond aesthetics, Panduka is a fervent advocate for sustainability and ethical fashion. His commitment to these principles is woven into the fabric of LCY London. From locally sourcing Sri Lankan cotton to maintaining ethical working conditions in our own factory, Panduka ensures that LCY London isn't just a clothing brand—it's a movement for a more conscious, high-quality fashion world.
The Operational Mastermind
Our Director of Operations
Omersha is the backbone of LCY London, ensuring that our ambitious creative visions become tangible realities. With extensive experience in project management, Omersha oversees the myriad tasks that keep our brand moving forward.
Guiding the Future
Adept at forward planning, Omersha has been invaluable in setting the stage for LCY's next big steps. Whether it's geographic expansion or launching new product lines, his strategic approach ensures we are always prepared for what comes next.
Integrated Frameworks for Seamless Operations
With an eye for process optimization, Omersha implements robust frameworks within our factories and warehouses. These systems ensure that we operate like a well-oiled machine, capable of meeting international demands and standards.
Financial Stewardship and Accountability
Omersha brings a level of financial acumen that is crucial for scaling LCY London to greater heights. His oversight extends to budgeting, financial planning, and ensuring that our accounting team operates with full transparency and accountability. His strategic financial management safeguards the company's assets, optimizes capital allocation, and ensures our financial health.

Director of Production and Procurement
Hussain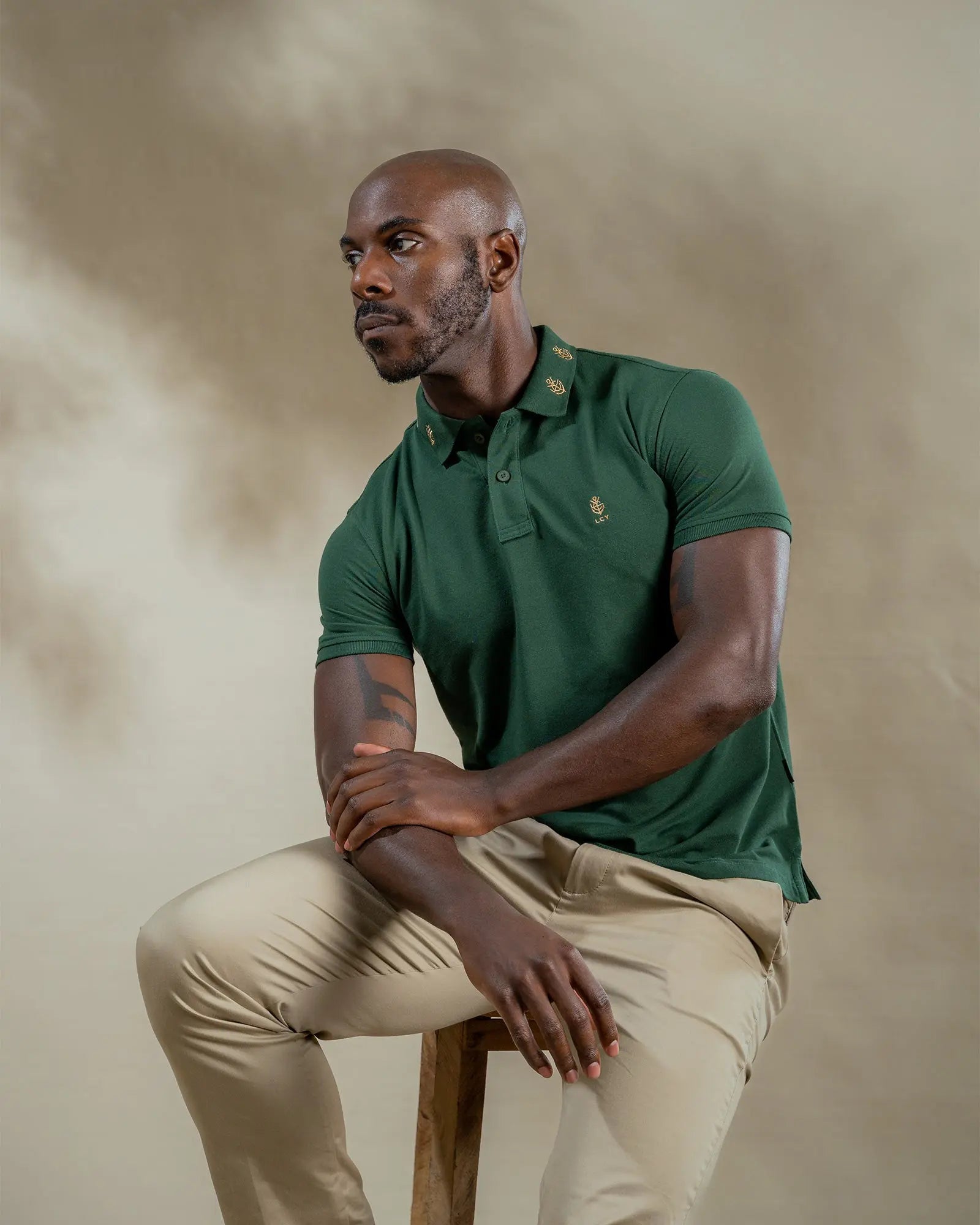 Financial Acumen Meets Engineering Precision
Director of Production and Procurement
Turning an idea into a tangible product requires more than just creativity—it demands an in-depth understanding of materials, production processes, and supplier relationships. That's where Hussain comes in.
Fabric Sourcing from Elite Suppliers
Hussain's expertise lies in procuring fabrics that stand up to our brand's uncompromising standards. Working closely with world-renowned suppliers that cater to fashion titans like Dior and Ralph Lauren, he ensures that our garments are crafted from nothing but the finest materials.
From Concept to Creation
As the vital link between our creative and production departments, Hussain plays an instrumental role in transforming designs into physical products. He works closely with our Creative Director, Panduka, to bring artistic concepts to life, ensuring each piece meets LCY's strict quality and aesthetic standards.
Hands-On Leadership
Despite his many responsibilities, Hussain finds the time for regular on-site visits, be it at our factories in Sri Lanka or at supplier locations across the globe. These visits are not just routine checks but strategic interactions aimed at strengthening relationships and ensuring adherence to LCY's high standards.
The Backbone of LCY London
In essence, without Hussain's operational brilliance and tactical execution, LCY wouldn't have a product to sell. He is the backbone that supports the creativity of our designs, the quality of our products, and the efficiency of our operations.